Bakhour - 6ml (.2 oz) Perfume Oil by Al-Rehab (Crown Perfumes) Etar presented by Marhaba Hijab Fashion)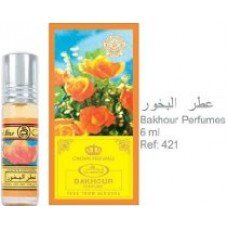 Brand:
Al-Rehab
Product Code:
Re Bakh
Availability:
In Stock
Description:
Etar Bakhour - 6ml (.2 oz) Perfume Oil by Al-Rehab (Crown Perfumes) Etar
Bakhour has a lovely sweet musk and floral blend with white musk, amber rose and Jasmine loved by women and even men." Al-Rehab is one of Saudi Arabia's leading perfume manufacturer which creates fine traditional Arabian and oriental perfumes. The perfumes are made of precious natural essences (Oud, Rose of Taif, Incense, Musk, Sandalwood and rare spices). Al-Rehab produces liquid perfumes, perfume oils (or attars, which is a traditional name of Arabian perfumes), solid perfumes and fragrances. You can choose a fragrance concentration you prefer: all perfume oils and solid perfumes are alcohol free.
Features
Marhaba book store sells genuine world famous Al Rehab concentrated perfume oil
High quality exotic longe longer lasting and is free from alcohol
Comes in a 6ml (.2 Ounce) roll-on vials makes it easy to anoint
One of the most popular perfume oils in the world, Inexpensive price does not sacrifice high quality.
A true value, Manufactured in Saudi Arabia or United Arab Emirites, A little of this delightful perfume oil goes a long way, A true delight to wear, Unique blends make many varities of oil that can be used both by men and women
Write a review
Your Name:
Your Review:
Note: HTML is not translated!
Rating:
Bad
Good
Enter the code in the box below: