Funeral Rites in Islam by Bilal Philips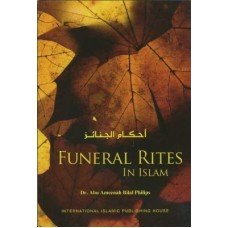 Brand:
IIPH
Product Code:
Bilal-Fune-
Availability:
In Stock
Description:
Title in Arabic:

أحكام الجنائز

Author:

Dr. Abu Ameenah Bilal Philips

Translator:

not applicable

Year of publication:

2005

Book Size:

14.5 x 21.5 cm

ISBN HC:
ISBN PB:

9960-850-84-6

No. of pages:

160

'Death is the ultimate reality of life.' This life on earth is only a transitory phase on the way to paradise or hell, as the case may be.

Islam as the complete code of life has a set of complete instructions for both the dying person and for those around him or her who are charged with the sacred duty of performing the last rites. Due to non-Islamic influences, Muslims have drifted away from the established practice of the Prophet (blessings and peace of Allah be upon him) and his Companions (may Allah be pleased with them all). Many Muslims no longer know or practice the necessary rites, and often mix in un-Islamic practices with the funeral ritual.

Dr. Bilal Philips has written Funeral Rites in Islam in order to serve the needs of English-speaking Muslims, using easy-to-understand explanations and instructions based strictly on the fundamental sources of Islam—the Qur'an and the Sunnah.

Write a review
Your Name:
Your Review:
Note: HTML is not translated!
Rating:
Bad
Good
Enter the code in the box below: