The Integrated Encyclopedia of the Quran Volume 1 New 2013 by Allah, Ahmad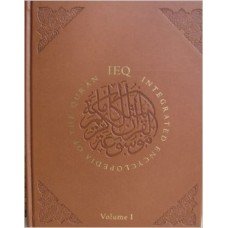 Product Code:
The Integrated Encyclopedia 1
Availability:
In Stock
Description:
The Integrated Encyclopedia of the Quran (IEQ) draws on a wide range of traditional Muslim sources, including exegeses, Hadith collections and commentaries, classical lexicons, biographical dictionaries, universal histories, works of jurisprudence, Prophetic biographies, and treatises on spiritual and moral psychology — some of which have never before been presented in any encyclopedic work in a Western language. Based entirely on primary sources and held to a high standard of academic rigor, IEQ integrates source material at several levels: its conceptual structure presents an integrated view of the overall message of the Qurʾān; it incorporates and integrates various strands of Islamic scholarly tradition on the Divine text; and it presents a cohesive, cross-referenced text that is at once contemporary and classical.
Write a review
Your Name:
Your Review:
Note: HTML is not translated!
Rating:
Bad
Good
Enter the code in the box below: