Islamic Education Grade 2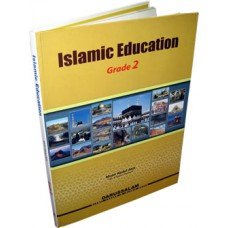 Brand:
Dar-us-Salam
Product Code:
Islamic Education Grade 2
Availability:
In Stock
Description:
Islamic Education Grade 2


By: Maulvi Abdul Aziz
Pages: 140
Binding: Hardback
Size: 8.5x11.5x0.5" (21x29 cm)
Format: Full Color
ISBN: 9960-9706-6-3 (9960970663)
ISBN13: 9789960970660
Publisher: Dar-us-Salam
Shipping Weight: 1.62 lbs
This Grade 2 textbook (for the second grade level) is part of the Islamic Education series which covers all areas of Islamic studies: tafseer, hadeeth, tawheed, fiqh, seerah, and general etiquette relating to different areas and situations. Given the importance of authentic Islamic knowledge, every effort has been made to ensure that the material presented in the series is authentic. Also, given the importance of Arabic Islamic terms, most of the terms are presented in their original Arabic script, along with the transliteration and the translation of their meanings. This also applies to supplications which have to be memorized in their Arabic version. The aim here is to help the reader read the original text and understand its meaning. Each lesson is followed by exercises covering questions about the lesson.
One striking feature in the series is the colorful artwork used in it will certainly appeal to children. This is certainly bound to attract the young readers' attention, stimulate them, amuse them as well as educate them.
This series aims to acquaint the student with the teachings of Islam in every aspect: beliefs, practices and moral conduct. This series, with its unique features, certainly fills a gap in this area which has long been partially neglected
Write a review
Your Name:
Your Review:
Note: HTML is not translated!
Rating:
Bad
Good
Enter the code in the box below: