Tell Me About the Prophet Musa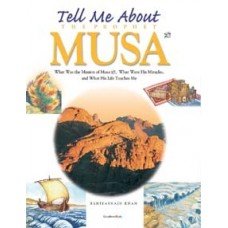 Brand:
Goodword Publisher
Product Code:
Tell Me About the Prophet Musa
Availability:
In Stock
Description:
ISBN :8187570482

Publisher :Goodword Books
Page :56
Binding : Paperback

Description from the publisher :
This book presents the life and times of the Prophet Musa, upon whom be peace, from the days of his infancy, when he was put in a box in the river Nile, to the period of his divine mission and preaching of Allah's words. It describes how Allah saved him miraculously from the death sentence of the tyrant Firawn, his upbringing in the palace, and his journey to Madyan and back when, on Mount Sinai, Allah spoke to him directly. It goes on to describe the parting of the sea and the utter defeat of Firawn and his mighty army as Prophet Musa leads his followers out of Egypt. Finally, the Children of Israel reach the Promised Land. The life of Musa is full of happenings, adventures and excitement, and has lessons and guidelines for all times. The focus throughout the book is on the spirit of the Prophet Musa's story, and on the lessons that it has for our daily lives. These exciting historical events are presented in a simple, informative style, with beautiful illustrations, so that young people may easily understand and enjoy them.

About the author(s):
Saniyasnain Khan
Saniyasnain Khan is an Indian television host and children's author, with over 100 children's books to his credit. These are on subjects relating to Islam and a number of them have been translate...

Write a review
Your Name:
Your Review:
Note: HTML is not translated!
Rating:
Bad
Good
Enter the code in the box below: